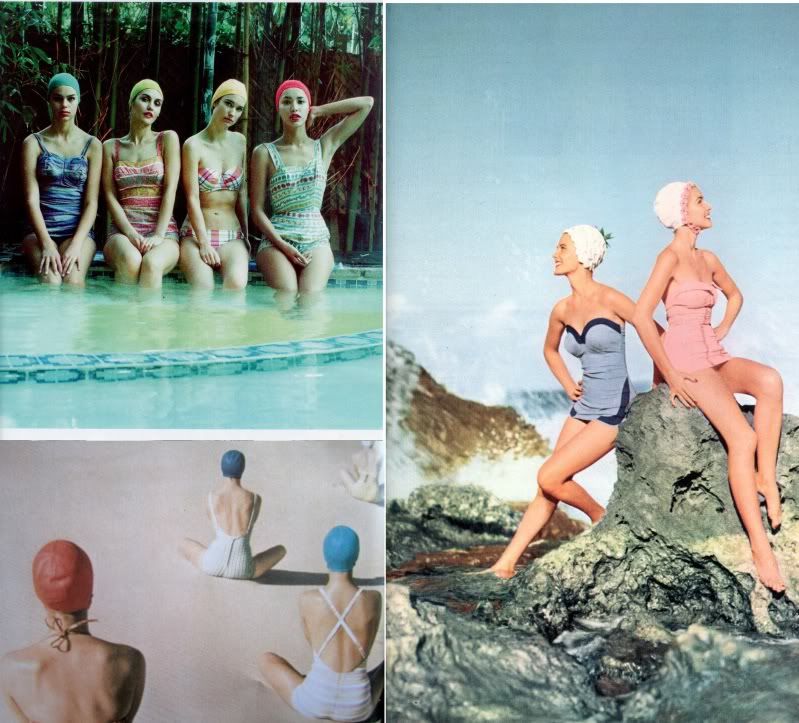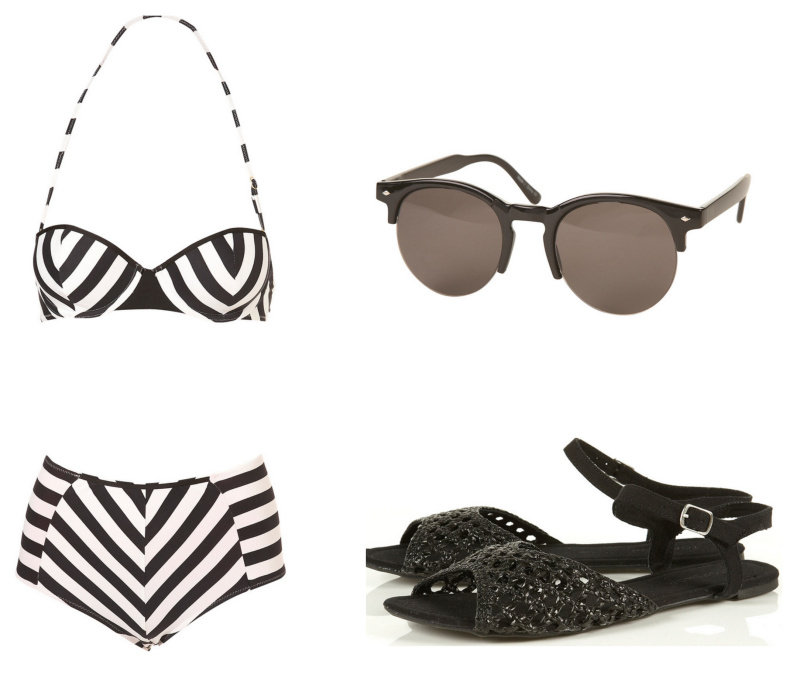 images; unknown and topshop items

The pressures of modern day society on women do not limit themselves to the realms of street ensembles or even 'event' etiquette. Events, small or large, work or pleasure induce questions such as is this dress length appropriate? The colour too outlandish?The amount of cleavage on show provoking the wrong kind of attention; is the male gaze going to be situated on this area for the duration of said event?
Instead, this pressure is magnified on the beach, rather much like a pressure cooker switched on full power, and perhaps to some extent self inflicted. Paranoia is a terrible state of mind; do other women really care about which swim suit one spent hours tirelessly selecting, initially by searching internet sites to construct a list of suitable venues in which to search for a suit and then visiting the actual stores themselves. There are also subliminal factors to this whole swimming attire debacle such as ridiculous articles entitled things like 'the best shape for your body type'. Although easily ignorable, I can still tell you that the boyish figures should apparently search for a frilly bikini to add curves to their straight frame.

The pressures, self manufactured or not, are still very much relevant and the obvious solution to this it seems, is to opt for vintage inspired swimwear. The swimwear of bygone eras appear to be much more focused on structure, pattern and shaping the female figure in a fun way than exposing as much skin as possible, as seems to be the condition of modern society. The arrival of much more modernised and detailed swimming costumes, instead of the basic speedo type varieties of recent years, is a welcome and much needed cure to the problem described. Although the uttering of the words 'swimming costume' can send one into a frenzy of flashbacks from childhood memories, nostalgic yes, but suited to your current style no. Vintage swimwear has made a comeback which I am fully intent on embracing the products available for I too buckle under the prospect of the dreaded bikini.

I'm not of the 'one approach fits all' institution, preferring (in all aspects of dressing, not just swimwear) to experiment with shapes to find a happy medium in which an individual choice is made informed by trying items on in order to determine comfort or confidence factor and perhaps to some extent an element of flattery factor. But I fully believe that opting for a vintage inspired costume, or indeed bikini, will be much more fun this summer resulting in a effortlessly cool beach look and lessening the fear...